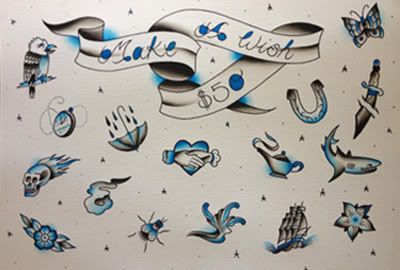 Make-A-Wish Australia grants the wishes of children and young people with life-threatening medical conditions to enrich the human experience with hope, strength and joy. Make-A-Wish was established in 1985 and has since granted almost 7,000 wishes to children in Australia.
Tattoos for Wishes is the fundraising initiative of tattoo enthusiast, Sarah Mooney. Sarah is a keen supporter of Make-A-Wish® Australia and is proud to have chosen it as sole beneficiary charity.
Combining her two passions – tattoos and granting the wishes of seriously-ill children, Sarah has developed a fundraiser with a difference.
In a bid to raise much needed funds for Make-A-Wish®, Sarah is inviting attendees at the Rites of Passage Convention to show their support for the work of Make-A-Wish in ink. That's right, six notable tattoo artists have come on board, each agreeing to tattoo any of 14 specially developed 'wish' designs for a discount price throughout the duration of the convention, with all the funds raised donated to Make-A-Wish.
We urge those in attendance to support Tattoos for Wishes.
If a tattoo isn't for you, you can still show your support by purchasing Tattoos for Wishes T-shirts and prints throughout the event.
To find out more contact:
TATTOOS FOR WISHES FACEBOOK PAGE

For more on the Rites of Passage Convention visit:

For more on Make-A-Wish Australia visit